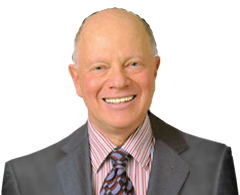 My Philosophy as Mediator/Arbitrator
"Through the centuries, men of law have been persistently concerned with the resolution of disputes in ways that enable society to achieve its goals with a minimum of force and a maximum of reason."
Archibald Cox, Professor, Harvard Law School
Solicitor General 1961-65
Special Prosecutor, Watergate, 1973

---
As a mediator, my goal is to assist the parties to a principled and reasonable resolution. We discuss the real long-term interests, the management of risk, and the potential rewards which each of the parties can achieve. In appropriate situations, compassion, candor and encouraging mutual respect and understanding are necessary ingredients of a successful resolution.
My basic strategy as a mediator is to respect counsel and clients by using disciplined approaches to conflict resolution; I exercise common sense and practical knowledge developed from years of litigating and resolving business, real estate and partnership disputes; and I am delighted and determined to explore and assist in creating options to facilitate resolution. Without undermining the parties' right to self-determination or the clients' relationship to their attorneys, I will be evaluative in analyzing the realistic costs, the probable risks, and the potential rewards of "a litigated result".
Upon request of counsel, I am prepared, once properly informed, to be forceful and evaluative, rather than simply facilitative of the settlement process. I have been fortunate to have a remarkably high success rate by working diligently and collaboratively to foster "win-win" solutions tailored to the business, community and/or personal needs of the clients.
As an arbitrator, discovery referee or special master, my goal is to achieve solutions that are practical, efficient and sensible. Customarily, a tentative decision is provided to each counsel so that each may have a reasonable opportunity to offer useful additional facts or legal authority. I believe this results in decision making that is well-informed.
My mediation style is a personal adaptation of the strategies for principled conflict resolution developed initially in the negotiation workshops of 1980 and 1981 at Harvard Negotiation Project in a very readable best-seller entitled, GETTING TO YES: Negotiating Agreement Without Giving In.
An additional book which I have found very helpful as a step-by-step guide to conflict resolution is Beyond Winning: Negotiating to Create Value in Deals and Disputes by Robert H. Mnookin, Director of the Harvard Negotiation Research Project. This work provides a fine analytical framework for both principled resolution of conflict and collaborative techniques which enhance the value to the parties of settlements when a business, partnership or employment relationship existed at the time of the inception of the dispute.
Participants in the Mediation Process may find the strategies and techniques of bargaining developed at the Harvard Negotiation Research Project to be useful in turning "disputes into deals" and "good deals into better deals" through practical, tough-minded problem solving techniques, as more fully explained in Beyond Winning.
A more recent work which is designed to serve as part of a law school curriculum on teaching law students how to become more successful negotiators and peace-makers, is Peacemaking, by Douglas E. Noll. This latter work contains an excellent historical analysis of conflict resolution, as handled by many different cultures and expressed in their myths. It also views conflict resolution models from a number of different theoretical approaches: philosophical, psychological, sociological and neurological. The concept of conflict resolution is further seen from the perspective of religion, classical theories of justice and mathematical models of "game theory."
Each of these three books contain many fine articles and other studies as reference material, so that reading the three really provides an excellent opportunity to develop one's approach to effective and principled conflict resolution.
from left to right: John Weiss, Steve Paul, Max and Jack Schaedel - all presenters on Employment Negotiation Techniques to the Pasadena Bar Association's Section on Employment in April 2012